Start printing labels in minutes
Create and print labels with ease, manage your labels, and integrate label printing into your business in minutes.
AzureLabel is the label printing software that meets the needs of businesses of all sizes, from micro to large.
Watch Our Demo Video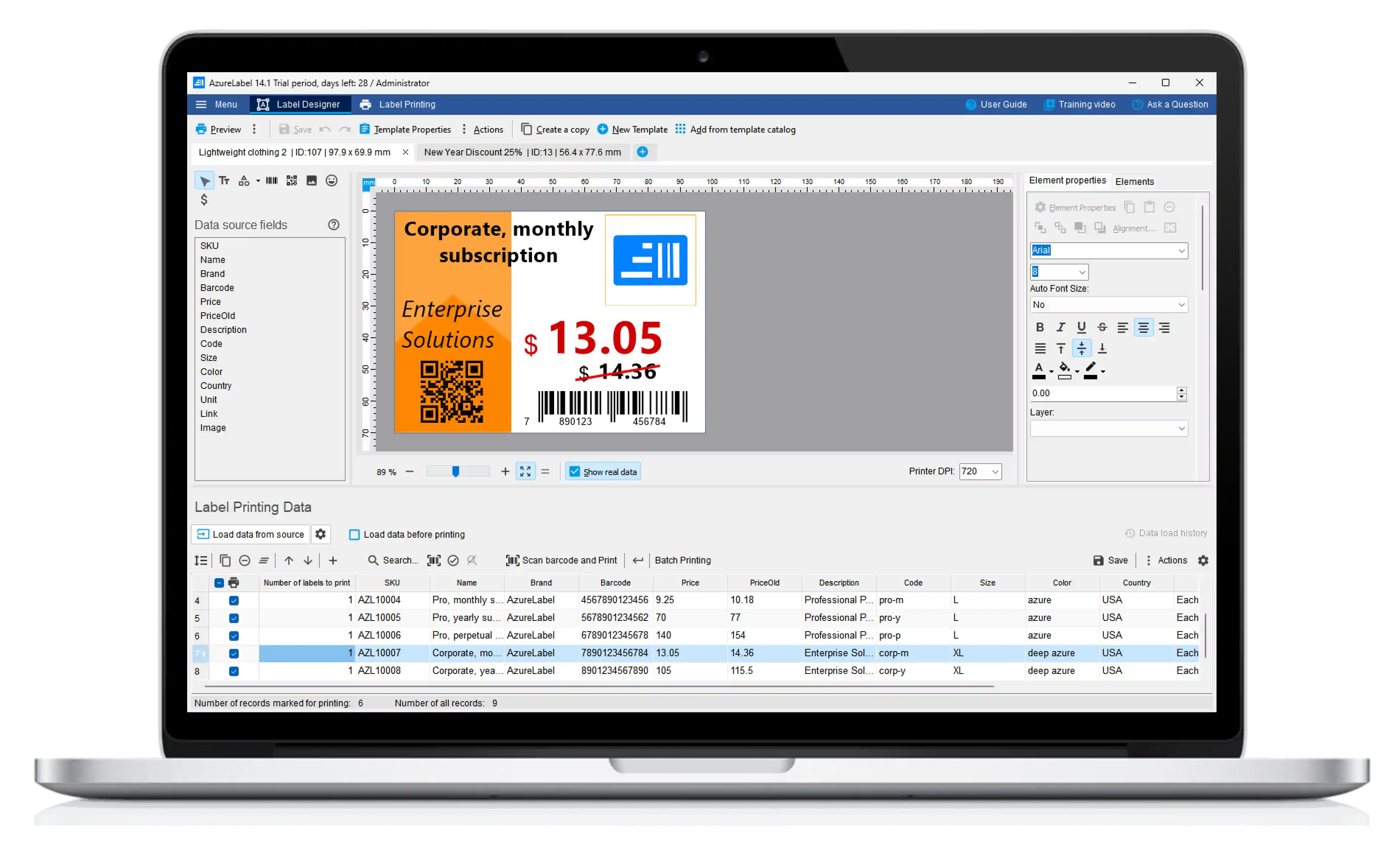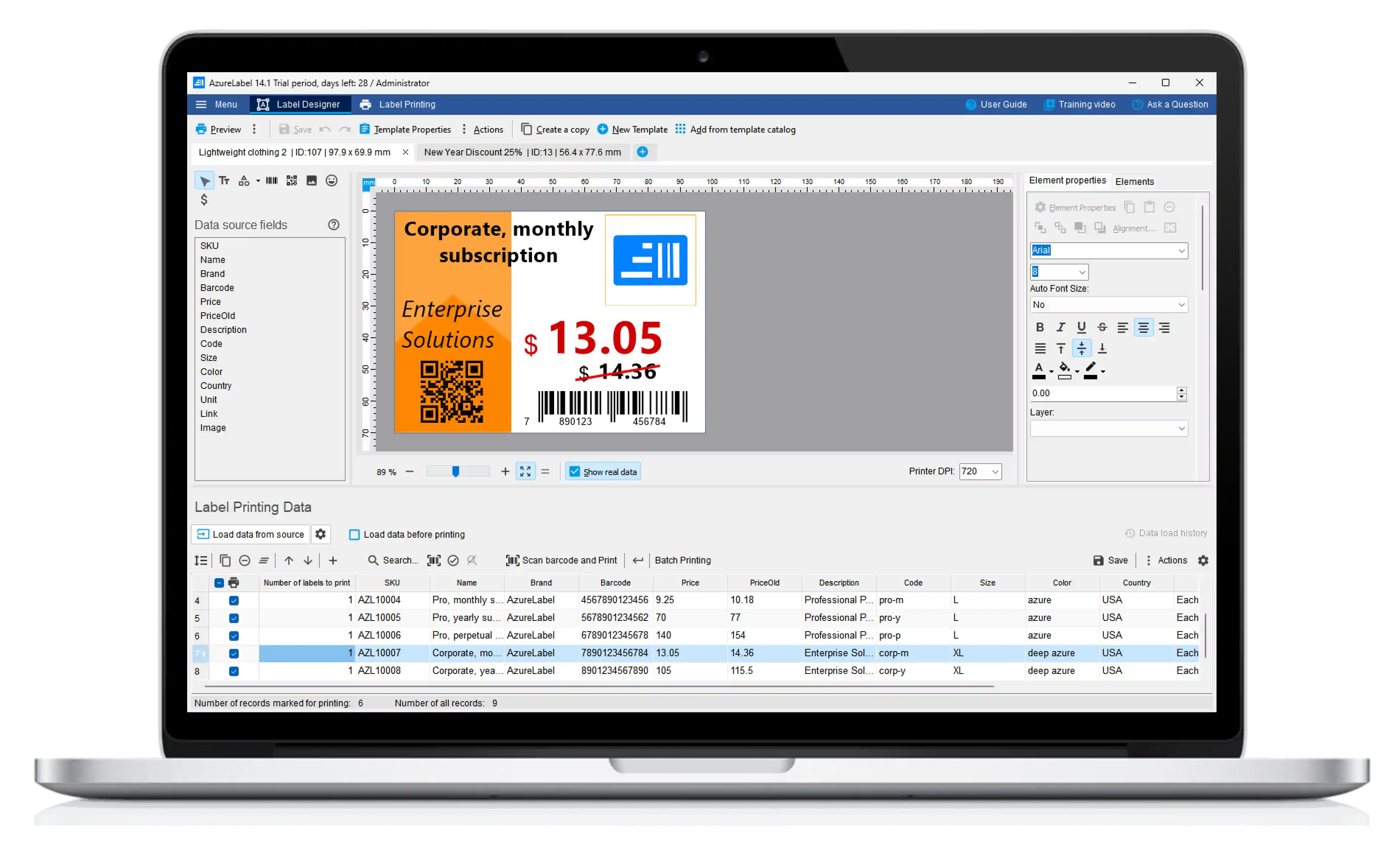 Design and Print Labels, Barcodes, Price Tags, and More
Print labels, price tags, shelf labels, barcodes, business cards and more on any printer installed in the system, including a regular printer, label printer (thermal printer), marking device and any other printer.
AzureLabel can print labels of any size, from the smallest to A4 or US Letter and up.
Print on self-adhesive sheet labels of any layout. The program has 3000 pre-installed self-adhesive sheet label layouts you can choose from (Apli, Avery, Herma, Lomond, and many more).
Flexible print settings, scaling templates (one design - different sizes of labels).
Batch printing. Update the data in your Excel file (or other file format) or place your files in a special folder and the program will automatically print labels using the data from these files.
Save labels to PDF, Excel, or as images
Work anywhere. AzureLabel allows you to save labels to PDF, Excel files, or as PNG, JPEG, EMF, BMP images for print it elsewhere, if you do not have a printer at your workplace or if it gets faulty.
Generate and print both 1D and 2D barcodes
The program provides support for more than 70 types of barcodes (EAN-13, EAN-8, UPCA, Data Matrix, Code 39, Code 128, EAN-128, QR-code, PDF417, Aztec, and many others).
GS1 support in barcodes.
Display in barcodes any information, if it supported by the selected barcode type.
Flexible barcode generator with flexible settings.
Formulas for forming a barcode and changing the type of barcode "on the fly" according to specified conditions during printing.
Display information from your data sources in labels
AzureLabel can connect to different types of data sources and display data from your sources in labels:
Spreadsheets: Excel, ODF (OpenOffice, LibreOffice, etc.)
Text files with delimiters: CSV or unloading from a web site management systems
SQLite databases
Any data source via ODBC: SQL Server, Access, MySQL, PostgreSQL, Oracle, etc.
POS systems: EposNow, QuickBooks POS, Loyverse POS
Clipboard
JSON files
PDF files with barcodes
Any data source over HTTP as long as the data source has an HTTP API. Data extraction and user interactions are writing in JavaScript or Pascal script, which provides very flexible possibilities
Flexible settings allow you to perform various load scenarios.
Store and manage labels and data
The built-in AzureLabel database stores your label templates and label printing data.
You can easily manage your label templates and print data.
Storing the entire print history allows you to view the print history in detail and reprint any job in the history.
Automate label printing. Integrate label printing with your business system
AzureLabel easily integrates with other programs and business systems. To automate label printing, you can use:
Automation module, which contains REST API server, file trigger, database trigger and other triggers. The module runs as a Windows service
Running the program as a REST API server with the ability to interact with the user through a graphical interface
Command line
Management via the clipboard
Start printing labels within a few minutes after installing AzureLabel on your computer!
More than 11,000 businesses around the world have entrusted label printing to AzureLabel.
After scouring the internet for an application flexible enough to do the very simple tasks we need here, we finally found AzureLabel. Thank you!
The built-in database system is perfect for my needs as a small business. I can use csv files to sync my catalog information to my barcodes easily. The templating engine works great too.
Super efficient! Great upgrade for our stores!
IT WORKS PERFECTLY, VERY USEFUL. THANK YOU
The program is super user friendly
The best program I've ever used for price labels!
I found the program very useful.